Kara Suhey, raised on peppers, explains
What are suhey peppers?
Ginger Suhey
Family matriarch, mother of 7, grandmother to 11, and the woman we all have to thank for Suhey Peppers. There isn't a single Suhey get together (these are big get togethers) that doesn't revolve around jars of peppers.

Suhey Peppers, while devastatingly delicious on their own, are just one ingredient in a much larger recipe. A recipe to combine family, friends, good food, and great laughs. Add a few drinks into the mix and bring it all to a simmer over a crisp fall football tailgate.

At least, that's how Grams saw it when she first started making the peppers. She didn't set out to make the perfect tailgate snack, she set out to bring people together. And great food just happened to really help in doing so.
We kept asking her to write down the recipe and finally she did.
"Mom would put together a batch of peppers at night, while having a glass of wine, adding a little of this, a little of that."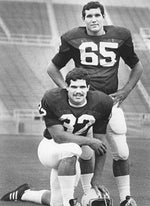 Ginger's sons, Matt and Paul Suhey, on the PSU field in the 70's.
A football family
Ginger Suhey was delighted to offer her peppers to the throngs of hungry people that would gather around her home for football tailgates. The peppers were such a hit that pepper production expanded from Ginger's small kitchen into her son Paul's much larger garage.

With the help of many close friends and family members, pepper making became a festive event with the number of jars produced depending on the number of helping hands during production.

In order to meet the still growing demand, we have expanded our operation once again and are now very proud to offer you Suhey Peppers, a treasured family tradition!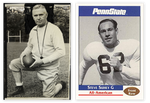 A long history
Bob Higgins, Ginger's Dad, head coach of Penn State football 1930 - 1948. And Steve Suhey, Ginger's husband. He married the coach's daughter. What a stud.